The first FIFA World Cup and The 65th Open
One major sporting event began in 1930 as the first FIFA World Cup was held in Uruguay, with the host nation going on to secure glory.
Yet while football's biggest international event was all new, The Open was already 70 years old and its 65th edition took place just a few weeks before the inaugural World Cup.
It would prove to be an historic Championship as the great Bobby Jones won The Open for the third time on his way to an unprecedented calendar-year Grand Slam, totalling 291 from four rounds to finish two ahead of Leo Diegel and Macdonald Smith.
Jones had already won The Amateur Championship at St Andrews three weeks prior to lifting the Claret Jug. He became only the second man, after John Ball in 1890, to win The Amateur and The Open in the same year.
Subsequent victories at the U.S. Open and U.S. Amateur enabled Jones to complete a truly stunning feat. Incredibly, he then retired from competitive golf at the age of 28, only returning to feature annually in his own tournament at Augusta National.
Disney's world begins to emerge
Another significant development in 1930 saw the debut of the Mickey Mouse comic strips, written by Walt Disney.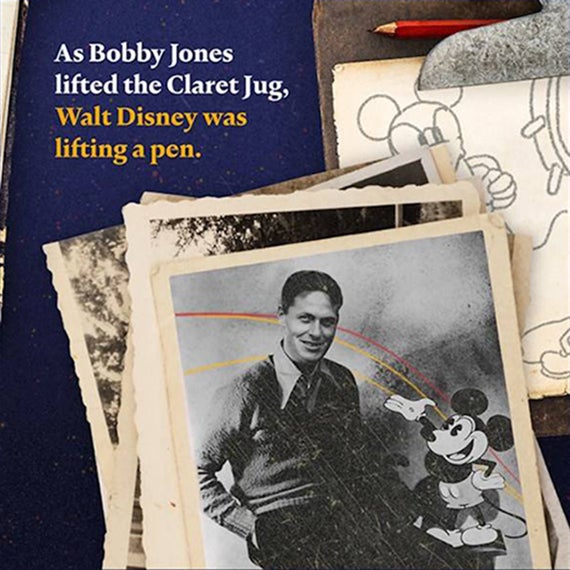 At that time, Walt Disney Productions - as the company was then known - was a leader in the American animation industry. However, much like The Open, Disney experienced huge growth in the decades that followed.
The modern-day Walt Disney Company is a vast multinational mass media conglomerate that includes divisions in film, television, theme parks, video games and music.
When The 65th Open took place, few could have possibly foreseen just how big the Championship and Disney would each become.
A Hollywood icon is born
Twenty days before Jones lifted the Claret Jug, a Hollywood star of the future was born in San Francisco.
Clinton Eastwood Jr would soon become known to millions as Clint as he enjoyed a glittering career in television and film, winning countless awards and starring in iconic productions such as Dirty Harry, Every Which Way But Loose, Unforgiven and Million Dollar Baby.
The latter two films each brought Eastwood Academy Awards in 1992 and 2004 respectively, the years in which Nick Faldo and Todd Hamilton lifted the Claret Jug.