Lyle's talent comes from the game of golf being ingrained in his family history. His father was the professional at Hawkstone Park GC, where Lyle was born and raised, and Lyle's uncle, W.B. Lyle, was a superb golfer who played in the 1950 Open Championship.
"As a young boy, golf really came to me quite easy," Lyle said. "I was given that great art of touch, feel, good with the hands."
"Obviously I wasn't born with a brain that was going to be an Einstein. But I had that talent, that feel. Whatever you're born with, whatever the genes you've been given, from my uncles or family down the line, all helped."
Lyle's father, who had taken on professional and greenkeeping duties at Hawkstone Park eight years prior to his son's birth, introduced Sandy to golf, a sport he has never been far from.
"My dad really was the main man who would guide me in the right direction," Lyle said. "I obviously played with him quite a bit in the evening time when he had time off.
"He'd quite often look outside the window of the kitchen and say, 'ooh, practice ground's clear out there. Weather's nice.' Just hint, hint, hint."
Lyle was a generational talent, and by the age of 15, he was playing off a scratch handicap. Just a year later, Lyle amazingly qualified for The Open at Royal Lytham & St Annes as a 16-year-old in 1974, only five years after attending his first Open at the same venue.
The teenager played remarkably well despite understandable media scrutiny, but a devilish bunker at the famed Open venue dashed his hopes of making the cut.
"I came to grief in a bunker, and I took five to get out," Lyle said. "I think that was a bit of a reality check that golf isn't always going to be going forward, there's going to be some hard times. But I got a little taste (and thought), 'I'm going to come back next year and I'm going to do better'."
The missing piece in the puzzle
Lyle duly became the youngest winner of the Brabazon Trophy at 17, before turning professional the following year. Incredibly, by the age of just 22, he had won the European Tour Order of Merit in back-to-back years (1979 and 1980).
"In the early to mid 80s, I won quite a lot of tournaments," Lyle said. "But we still needed to get that one thing, The Open Championship."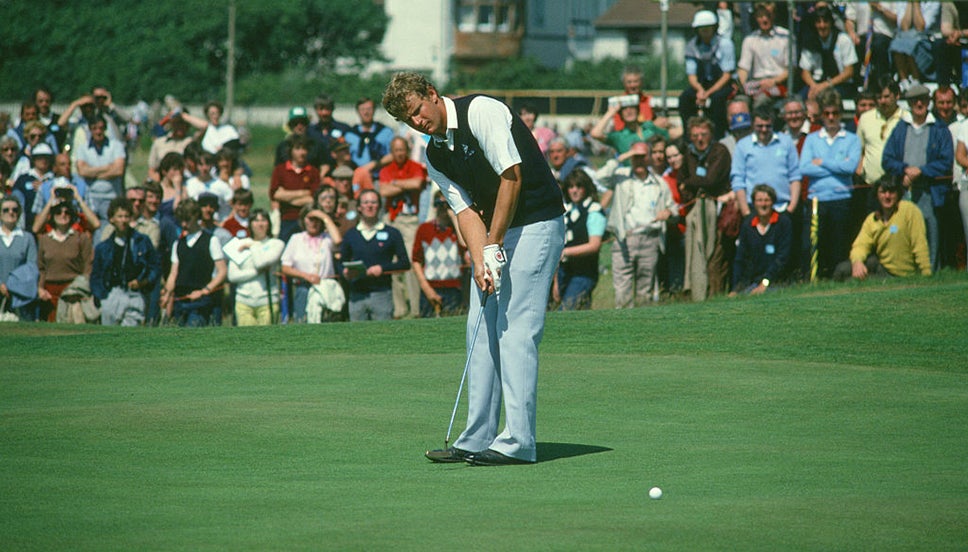 Throughout Lyle's career, his form would often become volatile. The Scotsman, who would sometimes warm up for his round hitting left-handed shots for fun, was capable of winning an event or missing the cut by a dozen strokes.
"My golf swing is a bit temperamental," Lyle said. "That's what my golf's been like. It's been a rollercoaster of peaks and lows, peaks again.
"That was pretty much me. I don't get too complicated. I think that's been one of my best assets."
Heading into The Open in 1985 at Royal St George's, Lyle's form was strong, but expectations remained low.
"It was like a one-week wonder," he said.
After two rounds, Lyle shared the halfway lead with David Graham at one under par. Conditions were brutal on the Saturday, however, and after a break in play Lyle struggled, dropping multiple shots.
"My first seven holes after we restarted were not good," he said. "I three-putted eight, and then a little short par-4 I went over the back of the green, which was careless, followed by another bogey as well.
"So my Open Championship was really kind of slipping away from the fingers."
A key turning point
Although he felt like his chance was gone, Lyle was still only two shots off the lead at three over par as he came to the 14th hole.
After finding trouble in the rough on the famous par-5, Lyle then turned his fortunes around in dramatic fashion. A great third shot from 220 yards was followed by a 40-foot putt from off the green for the most unlikely of birdies, and Lyle was back in the heart of the event.
"I turned a possible bogey into a birdie, so that's like a two-shot swing in your mind. That was maybe the spark I needed," he recalled.
On the 15th hole, now just one behind leader David Graham, Lyle played a superb shot to 10 feet.
"This is (the culmination of) all the years and years of playing and hoping," he said. "And I rolled that one in. That was a big achievement of calmness, and that told me an awful lot that I can do it under extreme pressure.
"That was the moment when the crowd realised, when I realised, that I'm right in the game. But I've still got three holes to go.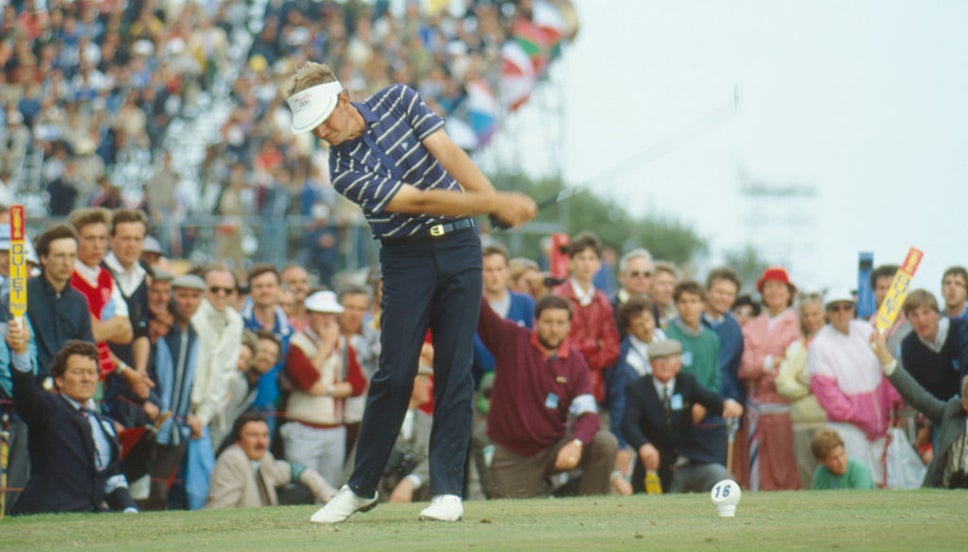 "On 17, I came up short with my second shot. The pin was at the back of the green, I'm using a putter from off the green, not an easy putt. I got it to within five feet, so I was quite happy.
"It's nerve wracking, but I've got to stay focused. I've got a job to do in some ways, and I made that putt as well."
After a bogey from Graham, Lyle stood on the 18th tee with a one-shot advantage.
"I was having a waggle before I got over the ball, and there was a big commotion on the 18th green. Apparently Peter Jacobsen made a rugby tackle on a streaker!
"I regrouped, and pulled off a pretty good tee shot. Then the 6-iron came out beautiful, but the ball didn't move. I ended up going off the green left into a horrible lie."
Lyle knew, however, that getting up and down would more than likely secure The Open.
"I made the decision that I'm not just going to bang it up there and see if I can hole from 12, 15 feet. I knew that if I was going to win The Open that I've got to take the chance. It was a bit of a gamble."
Lyle went for broke with his chip shot, despite holding the lead, and looked to have paid a heavy price. The ball did not make it to the top of the slope, and rolled back down to his feet. Lyle was devastated.
"I went down on my knees, and I put my head down in the grass and had a good old mutter to myself. (There were) a few swear words, but that's why I went down into the ground.
"But after I played the chip shot the scoreboard changed within 20, 30 seconds. So I knew then that I still had a shot lead even though I knew I was going to make bogey."
Bogeys from Graham and Bernhard Langer at the 17th meant that Lyle briefly led by two, and he duly knocked his next shot from the fringe up the slope to within three feet, leaving a nerve-jangling putt.
"I'm not feeling very confident on this. I could read the line, but it was a bit of a situation where nerves get the better of you and you make a bit of an idiot of yourself," he said. "It looked quite positive but, at the time, I'm burning."
Lyle held firm under pressure to knock his putt in, and he knew he had a superb chance at victory. Graham and Langer in the final group each needed birdies to tie him, a feat neither would achieve as they each finished with bogeys.
Only 11 years after playing in his first Open as a schoolboy, the immensely talented Lyle was now a Champion Golfer. Lyle had won what he had always dreamed of, the Claret Jug.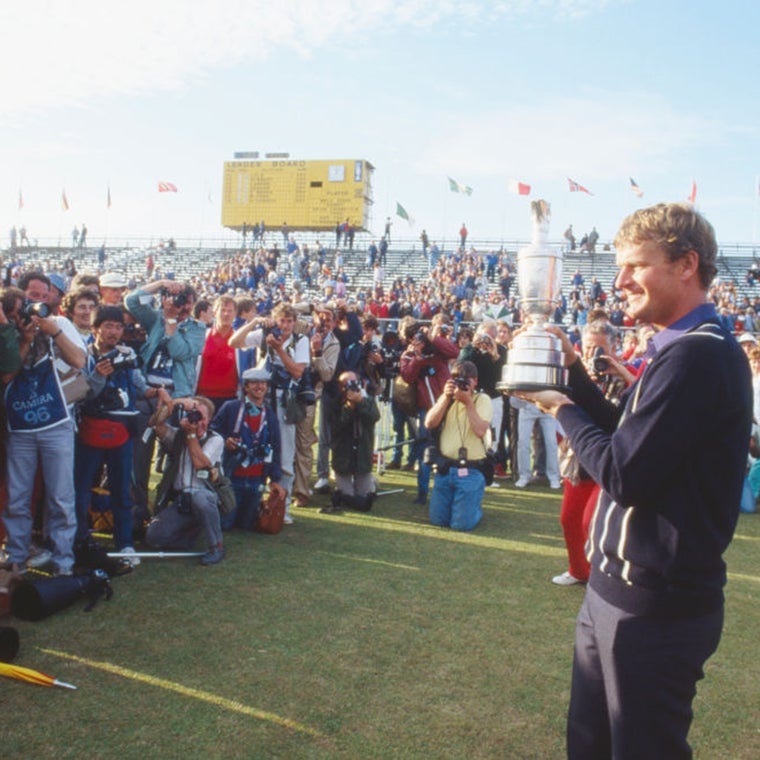 "When you've won The Open, you can never prepare yourself for it. It was a big boon in 1985, it still even now gets your emotions going. Winning an Open is a great moment, and still many years on it gets the heartstrings going.
"It's a long journey, and sometimes at the end of that journey you don't get rewarded in this game of golf. I've been one of the lucky ones that have been rewarded with The Open Championship."