When the first Major of the year took place at Augusta National 33 years ago, Faldo was not among the participants. Having failed to qualify, he instead found himself competing in the Magnolia State Classic in Mississippi.
Faldo's absence from the Masters for the second year in succession was a painful but not entirely unexpected consequence of the comprehensive swing rebuild he had been working on with his coach, Leadbetter, since the summer of 1985.
Although both men were convinced their efforts would eventually pay off, Faldo's form initially suffered as he transformed his technique. A fifth-placed finish at The Open in 1986, his fourth top-eight placing at the Championship in five years, represented an exception in an otherwise troubling period that saw the Englishman lose a number of sponsors and the faith of many.
However, through this tough time, player and coach remained committed to their two-year project. And in the April of 1987, Faldo's runner-up finish in an unheralded satellite event marked a significant turning point.
"He was trending," Leadbetter told TheOpen.com in an exclusive interview. "We sort of both sensed that he was in a position where all the work we'd put in over the previous two years was really coming to the fore.
"There were a lot of naysayers out there, certainly. A lot of people who thought that you'd never hear of Nick Faldo again, but we both instinctively knew something good was going to happen.
"The Magnolia State Classic, which Nick finished second in, was sort of the start of his climb. Everything started to come together, all of the hard work and effort, and I guess you could probably say that he owned his technique then, whereas up to that point he was just borrowing it. He was very comfortable with all the swing changes.
"He always had it in him, but the confidence in his technique wasn't there before then. That little Magnolia State Classic was really the forerunner to a lot of good stuff. Once the confidence started to rise, he was away."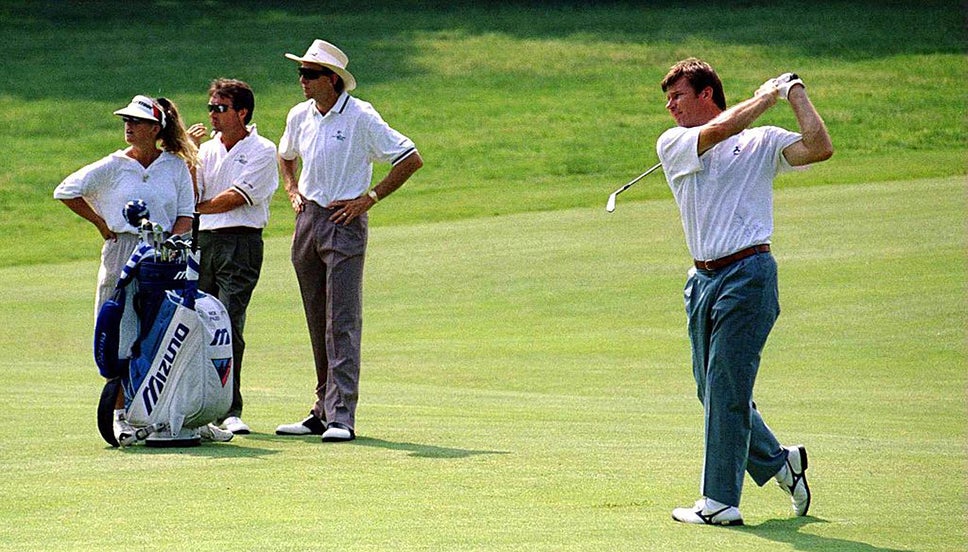 As if to prove Leadbetter's point, Faldo ended a three-year title drought just five weeks later by winning the Spanish Open.
That triumph silenced plenty of doubters, but both Faldo and Leadbetter still had a bigger target in mind, in the form of the Championship that had brought them together in the first place.
A leap of faith
Such was his determination to draw the absolute maximum from his career, Faldo was willing to make significant short-term sacrifices in pursuit of his ultimate goal.
When he and Leadbetter first started working together, both men knew a long process lay ahead of them in order to revamp Faldo's swing.
"You have to remember he'd been pretty successful up to that point in time anyway," Leadbetter added. "He'd already won a tournament in America, he'd won the Order of Merit in Europe, so this was a star player.
"When we first sat down and chatted, he said: 'I'm just not satisfied, I feel like I'm only using 75% of what I've got. I need to make some changes.' It was a leap of faith, no question about it.
"I've never had anybody who was so single-minded and had that goal in mind to be the player that he knew he could be. I've obviously had players with tremendous talent and players who certainly have desire and goals, but he was just something else."
This single-mindedness proved invaluable for Faldo as his focus on honing a new technique understandably affected his form.
Leadbetter continued: "Thank heaven we didn't have social media back then, otherwise they would have had a field day! You had the odd report in newspapers and maybe a little bit on TV but apart from that not a lot was known about what other people were doing.
"We really just stuck to the process, we really did. We just felt we were on a track and he trusted me implicitly. We never really had any doubts at all, ever, either of us.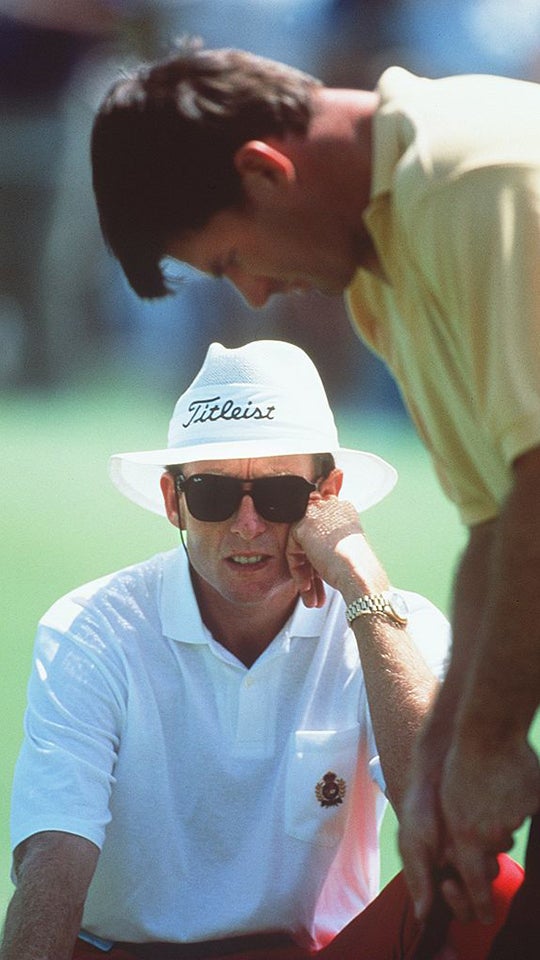 "The chemistry was really good and it was a case of all hands to the pump, working your you know what off, hitting up to six to seven hundred balls a day in the hot Florida sun and just grinding it out there. And he told me at the time: 'Look, I really don't care about contracts - I'm determined to get this right. Let's just do it.' And you have to give him that, really, the fact that he stuck at it.
"You couldn't do what we did then today - there's no way, there's too much riding on it, you've got top 50 in the world, Major Championships, sponsors, this and that, you just couldn't say: 'Well, ok, I'm going to take two years off.' Essentially, it was two years and one month. I think we started on the 1st June 1985.
"When Nick asked me I said: 'This is probably going to take a couple of years to get this to a point where you own this.' And he said: 'Ok, let's go for it.' That was what we planned on. We said: 'Ok, this is going to be a two-year project, let's go for it.'"
The road to victory at Muirfield in 1987 may have been a long and often arduous one, but that landmark success proved to be just the start of a golden period for Faldo.
Two further Open triumphs followed, while he also won the Masters on three occasions between 1989 and 1996 as he cemented his reputation as one of the finest players of his generation.
Two careers transformed
If Faldo's career took off following his first Open success, the same could be said of Leadbetter, as his standing was almost transformed overnight following the exploits of his star pupil.
"It gave my career a serious boost and my profile changed tremendously," explained Leadbetter, who had played on the European Tour himself with limited success before turning his attention to coaching.
"I had been viewed as sort of the ogre, if you will. You know, who's this guy, failed tour player and blah blah blah, working with our boy Nick.
"I think, indirectly, he and I changed the landscape as far as players and coaches were concerned. Jack Nicklaus had Jack Grout and you can probably go back to Bobby Jones, he had a fella called Stewart Maiden who helped him. John Jacobs did a little bit here and there with (Jose Maria) Olazabal, but there really wasn't the player-coach relationship that you certainly see more and more now.
"I was managed by IMG at the time. We started golf academies, I wrote a book called 'The Golf Swing' back in 1989, which was a huge seller over the years, and I did corporate outings. From being sort of a teaching pro, I became almost a bit of an industry, so the Leadbetter name became synonymous with coaching and teaching, and training coaches all over the world as well, to the point where today we have 35 academies around the world and way over 100 certified instructors who we train.
"It wasn't something that I planned on, but it was interesting. It was just a whirlwind change. And not that I was totally comfortable with it, in some instances I became as much of a celebrity as some of the players. So it was an interesting time and it was quite a shock to the system.
"I didn't realise really at the time he won it what this could actually lead to, but as they say everybody loves a winner, right? The fact was we must have done something right and all those two years of hard work and effort and patience just paid off and so (people thought) this must be the way.
"So I think it paved the way for a lot of people. I still get coaches and teachers come up to me saying thank you so much for what you did for us over the years because you changed our profile, which is nice. It's a nice feeling to have."