Two golfing greats with eight Open victories between them played integral roles in Ian Baker-Finch's inspiring journey from humble beginnings on a farm in Queensland to lifting the Claret Jug.
Baker-Finch triumphed in The 120th Open at Royal Birkdale in 1991, shooting 64 and 66 over the weekend to secure victory in style.
Success in golf's original Major represented the fulfilment of a dream for Baker-Finch, whose career path was significantly influenced by fellow Champion Golfers Jack Nicklaus and Peter Thomson.
Nicklaus made a telling impact long before Baker-Finch forged a professional career. The Golden Bear was indirectly involved in the Australian's introduction to golf, before his famed instructional book 'Golf My Way' served as a valuable guide for the youngster.
In his Chronicles of a Champion Golfer film, Baker-Finch explained how the sport came to be part of his childhood in rural Queensland.
"There was no golf course, really, in the area. No one really knew what golf was," he said. "And then along came Jack Nicklaus, Gary Player (and Arnold Palmer), the Big Three as they were known, they'd travel the world playing those matches.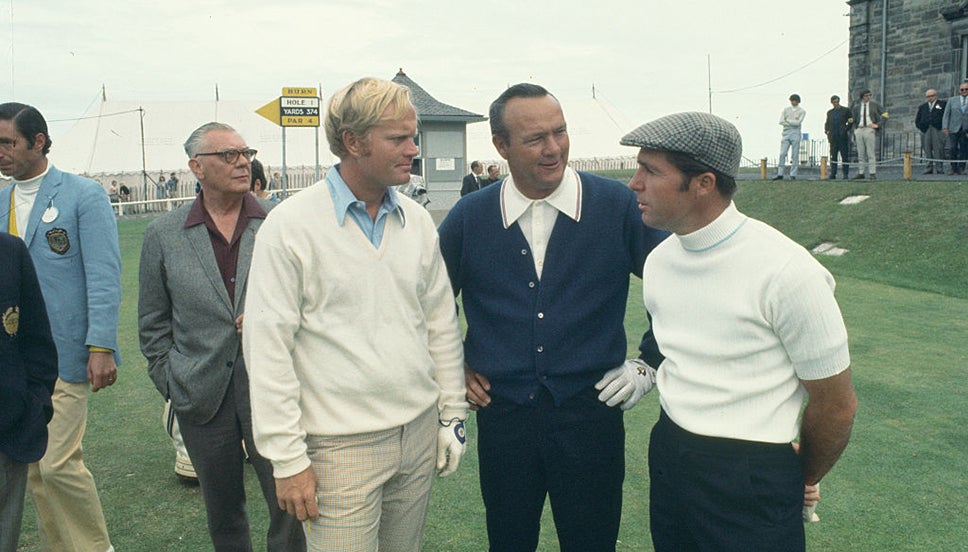 "That really piqued dad's interest and a lot of the farmers in the area. And dad went to the Forestry Department and he said: 'I'd like you to give us some land so we can build a golf course.'
"The Forestry Department gave him 100 acres - it was swampy, marshy land - and through the late 60s, I would go down on the back of the tractor with dad, and all the other farmers in the area that were interested in this would sort of get together and they built this golf course.
"For a kid my age, coming out of the bush, driving around in bulldozers and tractors was a lot of fun. In the end, in '69, '70, the course opened and dad started to play, and I would caddie for him and then I'd swing his clubs. And my 12th birthday in 1972 I got a little set of clubs, a little bag, 2-wood, 3-iron, 5-iron, 7-iron and a putter. And off I went!"
Baker-Finch soon found himself inspired by the teachings of Nicklaus, who was midway through a glorious career that would feature three Open triumphs and a record 18 Major wins.
"Jack's book, Golf My Way, must have kickstarted thousands of golf pros' careers and dreams, and it certainly did for me," he added.
"There was no pro at our club, it was a tiny little nine-hole course, and I had that book, Golf My Way, on the ground. I'd have a couple of clubs holding the pages down and I'd be trying to do everything Jack did.
"I played all the other sports as well, but golf was really the one. I guess from the age of 14 really that was all I wanted to do."
If Nicklaus unknowingly contributed to Baker-Finch's subsequent success, Thomson had a far more hands-on role in the development of his compatriot.
"He was the doyen of golf in Australia, the best Australian ever, a five-time Open Champion, and he took a bit of an interest in me in the early 80s," Baker-Finch said.
"He turned my game around in a way that I didn't really realise at the time. When you're young, you don't really know what's going on, you just sort of soak it all up."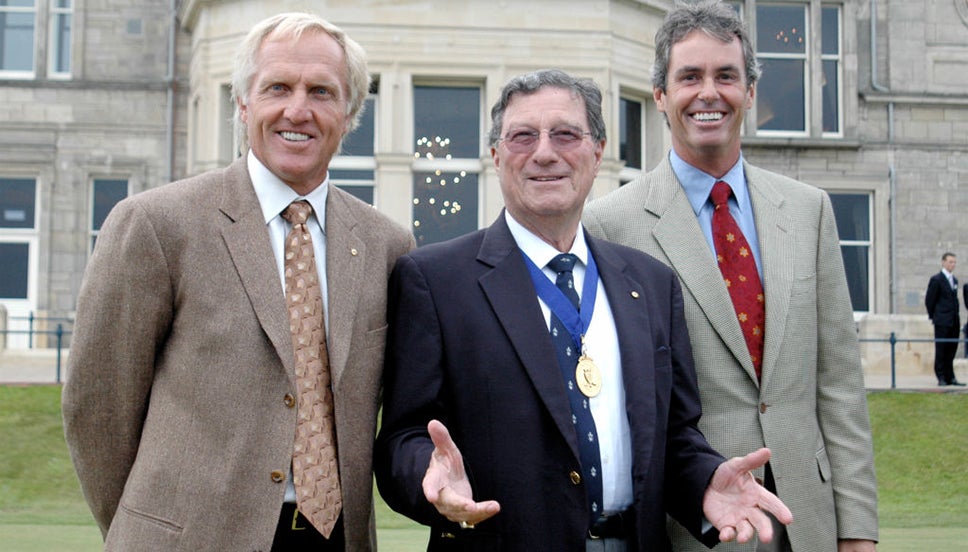 One piece of guidance from Thomson proved particularly helpful. As a young professional, Baker-Finch was keen to hit balls as often as possible, but Australia's most decorated golfer recommended a more focused approach.
"I played a lot of golf with Peter and I'd go and want to hit balls after, and he'd say: 'Just get a handful of balls and go out to 17, and practice finishing 4, 4 to win,' said Baker-Finch.
"He said: 'That's better than hitting 100 balls, don't go and hit balls all the time, you're just gonna ingrain what you don't do well. Just learn how to win. Go and learn how to win.'
"Little pearls of wisdom that he passed along to me - that was a big part of getting to that next point, getting to play in an Open."
Aided by Thomson's insight, Baker-Finch made an extraordinary impact in his first Open appearance, at St Andrews in 1984.
The debutant led a star-studded field by three shots at the halfway stage after rounds of 68 and 66. A 71 on Saturday meant he was still tied for the lead heading into the final round, but his hopes evaporated through a closing 79, with Seve Ballesteros surging to victory.
When The Open returned to the Home of Golf six years later, the Australian again found himself in the final group on Sunday, albeit he began the day five strokes adrift of runaway leader Nick Faldo, who would go on to claim glory as Baker-Finch finished sixth.
Given his past experiences in the last Sunday pairing, Baker-Finch could have been forgiven for feeling a little anxious when he shared first place with Mark O'Meara through three rounds of The 120th Open at Royal Birkdale in 1991.
However, the third time proved a charm for Baker-Finch, who went on to produce one of the finest front nines in Open history on his way to victory.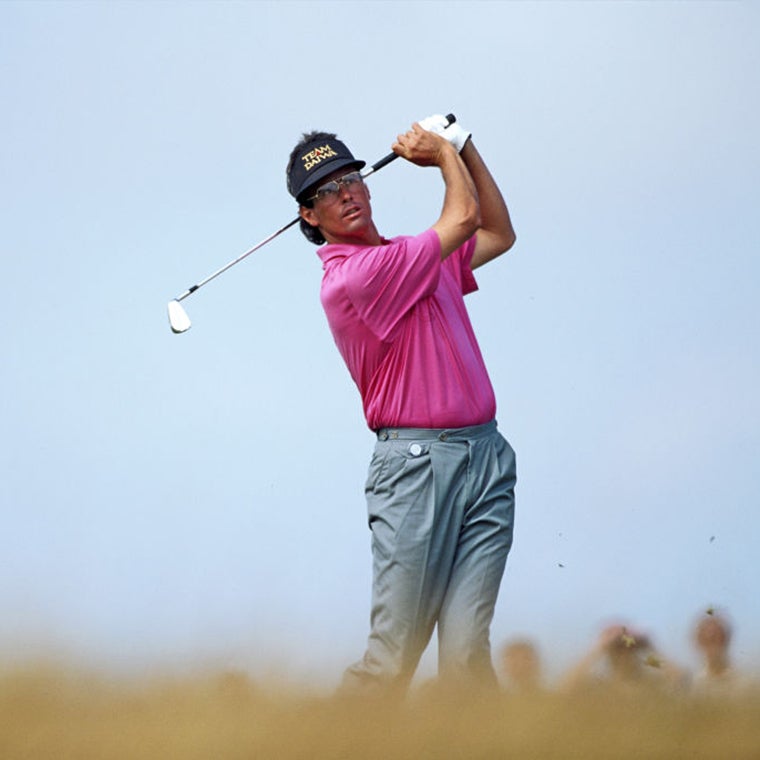 High on confidence after a course-record 64 on Saturday, he birdied five of his first seven holes in the final round, turning in 29 to take command of the Championship.
"That was a special nine holes," said Baker-Finch. "To have the lead in a Major and shoot 29, it doesn't get any better."
A bogey at the 10th briefly stunted his momentum, but Baker-Finch responded superbly.
"Basically, every shot for the rest of the round was where I aimed it," he said. "I didn't need to make birdies, I just needed to hit it in the fairway, get it on the green, two-putt for par and that's what I did."
A birdie on the par-5 17th gave Baker-Finch a three-shot cushion, one he never looked likely to relinquish as he finished with a tap-in bogey to complete the greatest achievement of his career.
More than 20 years after falling in love with golf on the other side of the world, Baker-Finch was an Open Champion, just like Nicklaus and Thomson before him.
"The Open meant so much to me. I think it meant so much to all Australians and all international players," he said.
"That was the trophy you wanted to win, the Claret Jug. To me, it's the Major of the Majors and the trophy is the best in golf.
"It's a pretty good story - from farm boy, the youngest of six kids growing up with nothing, to being one of the best players in the world. To being an international star and winning tournaments, and travelling the world, then winning The Open Championship.
"It's really made my life. I'll always be an Open Champion."