Such a scenario almost seems too good to be true, yet that was the glorious reality for Louis Oosthuizen 12 years ago as he charged to a runaway victory in The 139th Open at St Andrews.
In his Open Conversation podcast, the Champion Golfer of 2010 recalled his memories of becoming only the fourth South African to lift the Claret Jug, after Bobby Locke, Gary Player and Ernie Els.
Reflecting on the closing stages of his win, Oosthuizen acknowledges he was glad to have such a commanding advantage when he arrived at St Andrews' daunting 17th, the Road Hole.
"Normally when you have a lead like that, you just hit good shots or you just play your normal (game)," he said.
"I think the worst thing would be to play that hole with a one-shot lead. With a one-shot lead you would try and go more left (to avoid going out of bounds) but if you just get an awkward lie in the rough you're gonna make bogey.
"I went a little bit more left than I normally would, but I was hitting my driver so well that week and I was hitting this five to 10 yard cut every single shot, so it was perfect for me. I knew I wasn't just going to block it out to the right. If anything, I would tug it a little bit, which was fine. Even if I had to chip out, even if I made a six (it was going to be ok)."
Oosthuizen, who had pulled further clear of playing partner Paul Casey after beginning the final day with a four-shot buffer, safely negotiated the challenging tee shot on 17 but still had a couple of minor scares ahead before he could celebrate at the Home of Golf.
"My second shot, I think I took two clubs less," he explained. "I wanted to hit short right (of the green) ... and then just try and up and down from there, or even if I make bogey (it's fine).
"And I remember pulling the second shot and it came out straight towards the bunker and the first thing in my mind is 'no', because if this goes in, it is just going to get into the bunker and I'll be dead.
"So, as the ball went in there, I'm like, 'there's a lot of things that can happen here!' But luckily I literally took two clubs less so the seven-iron ended up being seven, eight yards short of the trap."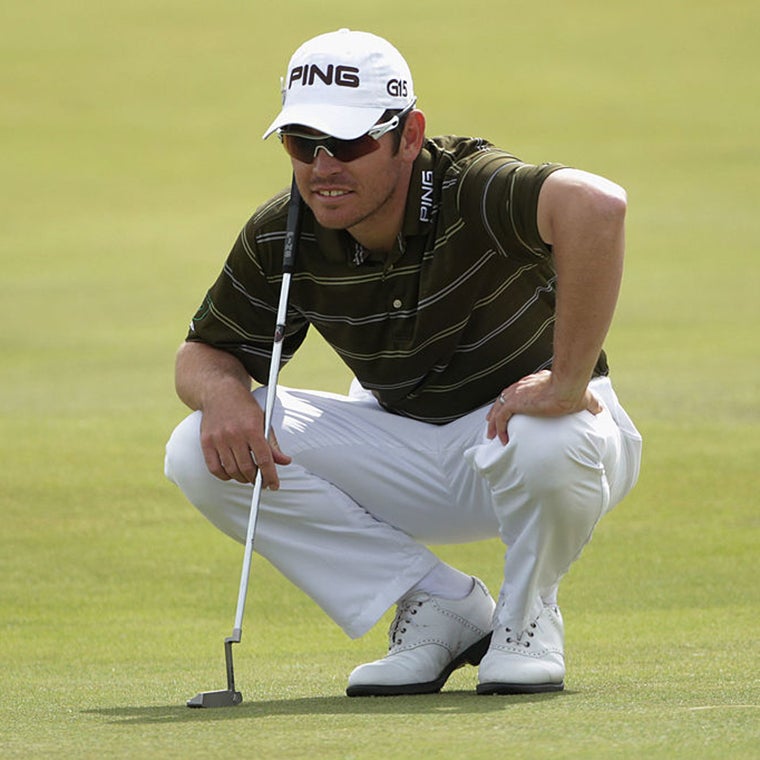 Having avoided the Road Hole bunker with his approach, the Champion-elect was not about to take any chances as he calmly accepted a bogey.
"I wasn't even thinking about going over the bunker to the pin or doing something," he added. "I went straight sideways, putting it out sideways to the right onto the green, and I two-putted from there and off I went. I didn't even think about taking anything on!
"I think after the 17th second shot, I knew I need to really try hard now to lose this tournament. That's why when I got to the green it wasn't even an option. It was just take the putter, three-putt, even if I four-putt, that's fine, let's just get on, just get out of there.
"I actually blocked the tee shot a little bit on 18, because I normally just go straight to the steps behind the green. I pushed it a little bit and for a little while there I was thinking 'oh man, this can go out of bounds'. And it pitched like three, four, five yards inside and it had a nice kick to the left, so it ended up being five or 10 yards short of the green, or pretty close to the front, a nice angle to the pin and everything.
"But again, I got there and didn't even think about taking (anything) on. I just putted it out to the side on the right, had about a 20-footer left for birdie, just putted it up to three feet, made the putt and off we went."
An aggregate score of 16 under saw Oosthuizen finish seven clear of runner-up Lee Westwood, achieving the widest margin of victory in The Open since Tiger Woods triumphed by eight strokes at St Andrews in 2000.
"It really kick-started everything career-wise," said Oosthuizen, who has since recorded second-place finishes at all four Majors - including another impressive visit to St Andrews five years ago when he and Marc Leishman were edged out in a play-off by Zach Johnson.
"Confidence-wise, it gave me a big boost just to see that I could play with the big boys and, you know, it was just a great week, all in all. I'm just happy that it happened at St Andrews."