Calm, sunny weather gave way to treacherous conditions on the final day, with only the top three finishers posting scores under 80 in each of their final two rounds.
The gales were so violent they caused the Exhibition Tent at the course to be ripped apart, with debris scattered up to a mile away.
While his brothers, Ernest and Charles, established themselves as golfing greats in their own right, Reg's victory at one of the weirdest and windiest Opens ever ensured his name went down in the history books.
The calm before the storm
The elements were a disruptive influence on The 73rd Open before it had even begun, as the Championship had initially been scheduled to be held at Royal Cinque Ports, a host of two previous Opens, down the coast in Deal.
However, high tides that February caused severe flooding to the course, meaning The Open moved to Sandwich, which had last played host in 1934.
Defending champion Henry Cotton - the last man to lift the Claret Jug at Royal St George's - carded an opening-round score of 74 to place him four strokes behind six players holding a share of the lead on day one.
Six became three at the halfway stage with Dick Burton, Jack Busson and Bill Cox sharing the 36-hole lead at even par 140, while Whitcombe remained firmly in the mix just two strokes back.
Working wonders in the weather
As conditions changed ahead of the final two rounds on the Friday, it soon became apparent that the eventual Champion Golfer of the Year would be the man able to best negotiate the perilous weather.
With the wind behind him, Alf Padgham, the 1936 Champion Golfer at Royal Liverpool, drove the green at the 384-yard 11th and sank the putt for a two, while in the other direction Cyril Tolley saw his second shot at the 14th clear the water, only to be blown back into the hazard known as the Suez Canal.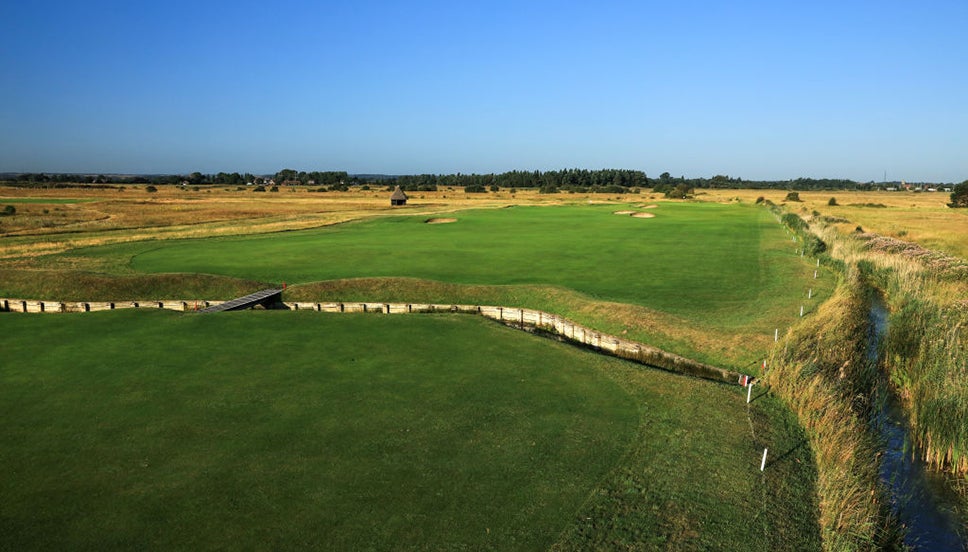 But despite a four-putt at the ninth in the third round, Whitcombe impressed with a joint-lowest score of 75 to tee him up nicely for a shot at glory in the final 18.
While the halfway leaders suffered terribly - with scores well in excess of 160 in their final 36 - Whitcombe held his nerve and finished with a 78 for an aggregate of 295, two ahead of Jimmy Adams, and three clear of Cotton.
While Whitcombe would never again taste Major success, his win in Sandwich would see him emerge from the shadow of his brothers with one of the most dramatic Open victories in history.