When Shane Lowry returned the Claret Jug at The 149th Open last July, it marked the end of the longest period any player had kept the famed trophy, without the need to return it, in the post-war era.
That all-time record, albeit mired in tragic circumstances, belongs to Richard 'Dick' Burton, an inspiring character who captured the hearts of his fellow countrymen and women, before setting off to war to fight for his nation.
Born in 1907, Burton was raised on a Lancashire farm, in the small town of Darwen. He became associated with the game after his family moved alongside Darwen Golf Club, where he began to caddy as a youngster.
Burton then famously worked for a period in a cotton mill in Lancashire, working as a four-loom weaver with Lancashire Looms, before returning to golf after undertaking a greenkeeping role at Darwen. Eventually, Burton became the club's professional in 1929 at the age of 21.
Burton's two brothers were also club professionals, and when Dick left Darwen in 1932 to become professional at Hooton Golf Club, all three siblings held a head pro role at clubs in the area.
At Hooton, Burton developed his playing skills, and he first played in The Open in 1932. Burton would play in the next six Open Championships without much success, but he immensely improved as a player during this time, featuring in the Ryder Cup on two occasions in 1935 and 1937.
In 1938, Burton found himself in a position to win the Claret Jug for the first time, taking a share of the halfway lead at Royal St George's at level par. However, dastardly weather on the Friday caught out a number of players, including Burton. A third round of 78 was still enough to keep Burton just a stroke off Reg Whitcombe's lead, but a closing round of 85 saw the Lancashire native finish fourth as Whitcombe took home the title.
The following year, Burton held both the first-round and second-round leads at St Andrews, but a poor third round left him four strokes behind John Fallon.
This time, however, Burton found himself on the 18th hole in the final round needing a four to win. He took just three strokes to complete a two-under-par round of 71 and win The 74th Open Championship at the Home of Golf.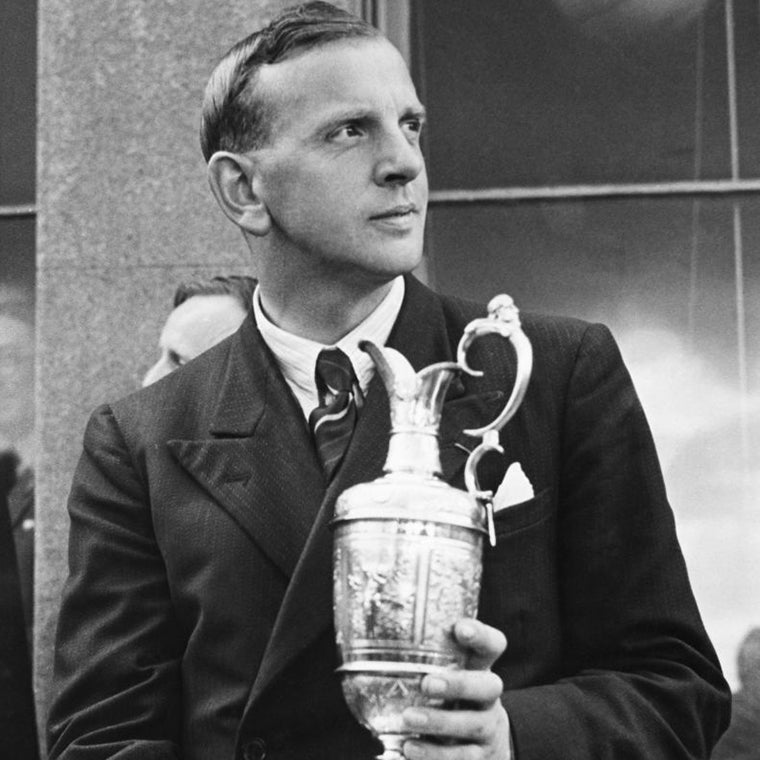 Burton's victory was celebrated widely across England, and in particular in his home county. In the immediate aftermath of The Open, Burton's instructional book entitled 'Length with Discretion' was published. The then 31-year-old's ability to strike the ball a long way was admired in professional golfing circles, as indeed was his humility, making for a rather fitting title for the book.
Not long after his greatest achievement at St Andrews, however, Burton enlisted in the RAF and fought for his country for the duration of World War II. The experience Burton endured provided a microcosm of the hardships of war, where the joyous occasions on the links of St Andrews just a few months previously turned to scenes of battle-preparation, as the Old Course's fairways turned to RAF runways.
"I was lucky," Burton said in an interview. "A lot of those who watched me at St Andrews also went off to war and they never came back. Some of my friends didn't make it either, I did."
Chastened by war, but thankful to be alive, Burton returned home having been in possession of the Claret Jug for seven years, five years longer than Lowry in the modern day. It is a record that still stands to this day, and one that all concerned hope will never be broken again.
In a show of Burton's great modesty and character, he wrote to the Royal and Ancient Golf Club ahead of The 75th Open Championship in 1946, where he would finally return the Claret Jug and defend his title at St Andrews, with the following letter:
"Dear Sirs, Please find enclosed my fee of five guineas for this year's Open. I will bring the trophy back when I come."
Burton gave a gallant showing in his title defence, and was in the top 10 after round one despite going out of bounds on the first hole. Burton would eventually finish in a tie for 12th, but other than a fifth-placed finish the following year, he would never challenge at The Open again. A further Ryder Cup in 1949 followed and, at 60-years-of-age, Burton played in his last Open in 1968.
Burton became the professional at Coombe Hill Golf Club after the war, and worked there for the rest of his life. Under his tutelage, Neil Coles worked as an assistant professional, en-route to becoming an eight-time Ryder Cup player and runner-up in The Open in 1973.
Burton lived to see Coles' success, but would die shortly after in 1974 at the age of 66. His legacy lives on, not just as the longest holder of the Claret Jug, but also as Lancashire's only ever Open Champion, and an inspiring figure in the history of golf and his country.