While the Claret Jug was claimed by Johnny Miller in The 105th Open, it was the 19-year-old Ballesteros' youthful exuberance and swashbuckling style that stole the show at Royal Birkdale.
A wonderful first round of 69 left the inexperienced Ballesteros tied for the lead with Christy O'Connor Jnr and Norio Suzuki.
But it was in the second round when the 19-year-old began to make headlines. A second consecutive 69 put the Spaniard two shots clear of the second-placed Miller at six under par, with just seven players in red figures for the Championship.
A third round of 73 maintained Ballesteros' two-stroke lead. With just one round to go, sitting at five under par, Ballesteros was threatening to go wire-to-wire and become the youngest major champion since Young Tom Morris won The Open 106 years previously.
Johnny Miller, speaking in his Chronicles of a Champion Golfer film, was as surprised as anyone by Seve's resilience.
"I was one of the guys picked to win that week," Miller said, "but all of a sudden you got some 19-year-old from Spain, a kid named Severiano Ballesteros.
"After the first day I was surprised that he was up there, but it was a nice story. Second round he's leading. I didn't think he would be able to sustain it, but then on Saturday I'm playing with him and he hung in there all day long and kept that two-shot lead.
"And he's getting big headlines, a good looking guy, flashy and interesting follow through, just sort of a dashing player, and he was just a breath of fresh air, and I was just caught up in really watching him.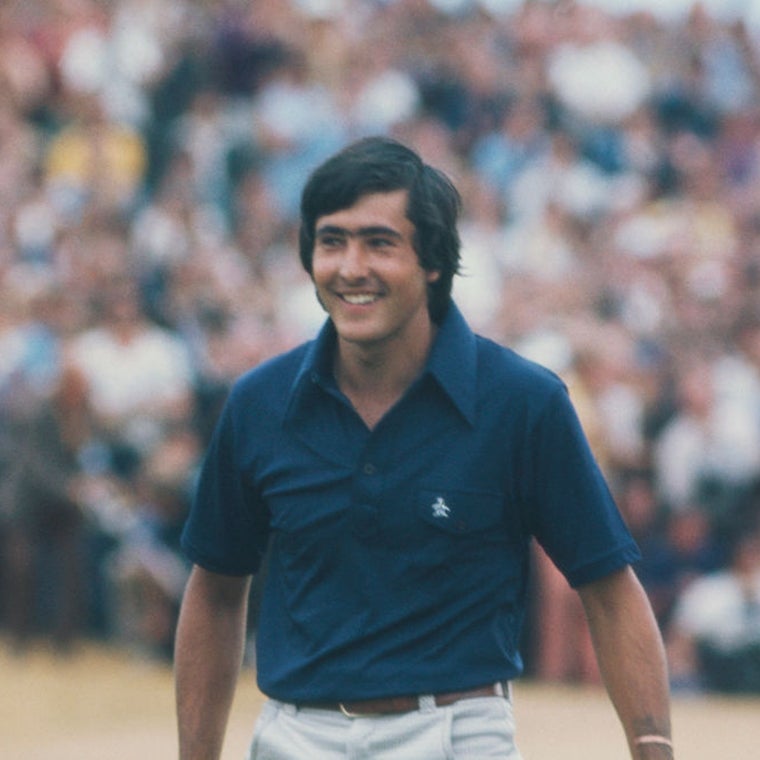 "There was a lot of pressure on him to sustain this Cinderella story that he was creating. I was feeling the pressure trying to catch this young Spaniard to be honest with you."
The precocious Spaniard began the final round playing with Miller once more, and gained a further stroke on his opponent on the first hole after holing a 20-footer for par.
"I thought super pressure was on him, to try and win a major at 19 years old," Miller added, "and if there were any weaknesses in his game, they were going to really show up on that Sunday.
"(But) now he's got a three-shot lead, and I was a little worried about that."
However, a poor drive from Seve led to a bogey on the second against Miller's birdie, putting the American just a shot back. Finding trouble again on the sixth, Ballesteros took a double bogey, while Miller holed a long par putt to take the advantage for the first time. While Ballesteros had so gallantly led for three rounds, he wouldn't lead again for the rest of The 105th Open.
"Now I've got a one-shot lead," Miller said. "That was a big turning point, all of a sudden I'm in the lead. I'm thinking 'just keep my one-iron down the middle', and let him be the fearless Spaniard and go with the driver all the time. And lo and behold, he hit it all over the sand dunes. He just kept trying to hit that driver."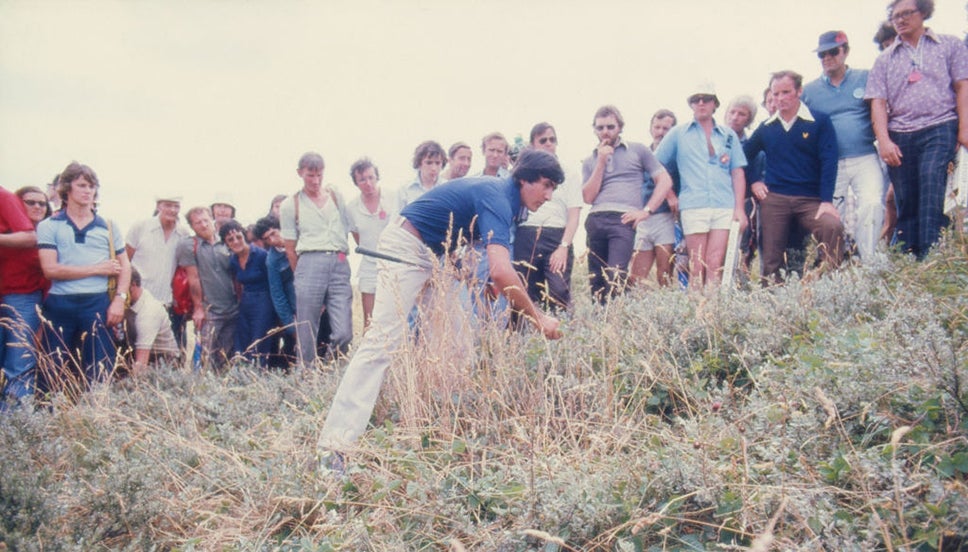 A further bogey on the eighth hole left Ballesteros three strokes behind before a triple bogey on the 11th effectively put paid to his chances, as Miller played flawless golf to move into an eight-stroke lead.
However, over his last six holes, the young Ballesteros was able to once again display the buccaneering play that the crowds so adored, showcasing the flair and bravado that he became famous for.
"In my little bit of limited Spanish, I pulled Seve aside and said, 'Come on, you can try and get second place'," Miller added. "It was a small token I had for him, because he was crestfallen, and lo and behold he started putting it together, and started playing the golf that put him in the lead in the first place. That started a friendship, a bond there that was pretty strong."
On the 18th hole, Ballesteros needed to get up and down from beside the green to take a share of second place with Jack Nicklaus. From there, the young Spaniard had one more thrill for the enchanted crowds, bumping the ball between two bunkers to make his closing birdie.
"I shot six under (66), the course record," Miller said. "It was a great day for golf, to be honest with you. It was great to win and usher in Seve."
While Miller produced a supreme round to become the Champion Golfer of The Year for 1976, The 105th Open at Royal Birkdale is also remembered as the coming out party for one of the most exciting young talents in some time.
Ballesteros would claim his first professional victory one month later at the Dutch Open, winning by eight strokes, and just three years after that, he won The Open Championship at nearby Royal Lytham and St Annes, securing the first of three Claret Jugs in one of the most storied careers in golfing history.
"I think Seve was fearless," Miller said. "He used to tell me, 'when I was young, if I hit it in the bush I'd always have a shot, always able to recover, always able to make the putt'. He believed no matter what he did he was able to overcome it. I love that guy, he was amazing for the game of golf."