Lehman became the first American professional to lift the Claret Jug at Royal Lytham & St Annes in 1996 with a performance that saw him set a new 54-hole Open record.
That his victory came just weeks after missing out on the U.S. Open title having led going into the final round made his triumph - his only Major win - all the sweeter.
It was the highlight of a remarkable season for Lehman, who also won that year's PGA Tour money list, and would go on to rise to the top of the Official World Golf Rankings in 1997.
We look back at the Champion Golfer's career and his Open victory - described by the man himself as the 'greatest day' of his life.
A circuitous route to the top
Born in Austin, Minnesota, on March 7, 1959, Lehman was raised in a small town called Alexandria and initially wanted to be an ice hockey player after graduating from high school in 1977.
He later became a three-time All-American at the University of Minnesota and the 1981 Minnesota Amateur champion, perfecting a low draw iron in the process that would later come in handy.
Lehman turned professional in 1982 but he played on the PGA Tour with little success from 1983 to 1985, losing his card as he struggled with his confidence.
Refusing to give up on his dream, he began playing in Asia and South Africa before regaining his PGA Tour card by topping the Ben Hogan Tour's 1991 money list - the second tier in the United States.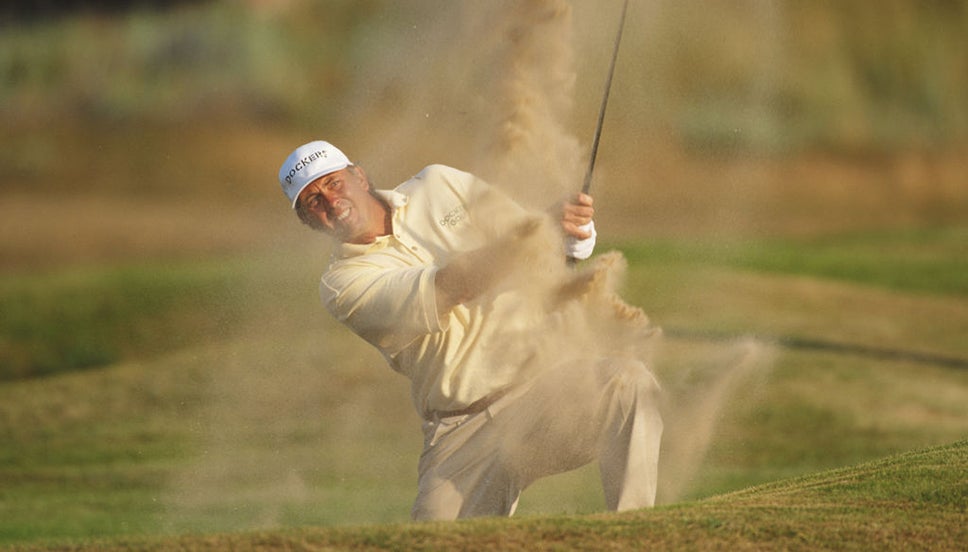 His big breakthrough came in 1993 at the Masters, where he finished joint third, having been tied for the lead after the first round alongside Jack Nicklaus and Corey Pavin.
A year later he was second at Augusta National, this time behind Jose Maria Olazabal, while his first PGA Tour title arrived later that year when he came out on top at the Memorial Tournament.
Further success followed in 1995 at Colonial with a then-record 20-under-par total, before his run of near misses at the U.S. Open started with a third-place finish at Shinnecock Hills.
The start of something special
Major glory continued to elude Lehman at the start of the 1996 season.
After two solid rounds at the start of the U.S. Open, Lehman surged to the top of the leaderboard at Oakland Hills with a sublime third round of 65 to take a one-shot lead.
He increased his advantage over Steve Jones to three shots after eight holes, before ultimately surrendering the title to his American compatriot with the two tied on the last hole.
His time would final arrive a little over a month later at Royal Lytham & St Annes, where Lehman arrived more confident than ever that a Major title was within his grasp.
"I remember saying to my wife that one of these days I'm going to get so far ahead that they can't catch me," said Lehman, who opened up with a four-under 67 to sit in a tie for second.
Another 67 on the Friday saw Lehman move into the lead alongside Paul McGinley on eight under, with the American ripping through the first nine at Lytham in 30 strokes.
And the then-37-year-old was even better on Saturday, setting a new course best of 64 that gave him a new record of 198 strokes for the first 54 holes.
Bringing it home
Lehman's new 54-hole record had beaten the old mark by one stroke, achieved twice by Nick Faldo, who by coincidence was his nearest challenger at Lytham - six strokes behind.
Faldo had won the Masters three months earlier from six shots behind Greg Norman and with Lehman's history of near misses, there was huge pressure on him going into the final round.
He was even asked whether lightning could strike twice and answered: "This is a different time and a different place. I feel like I am playing very well and I like my chances."
And despite racing his first putt of the day six feet past the hole, Lehman was as good as his word and held his nerve during the final round even though the birdies dried up.
A closing 73 was good enough for a two-stroke victory over Ernie Els and Mark McCumber, while Faldo's challenge ultimately faded away with a final round of 70 to finish fourth.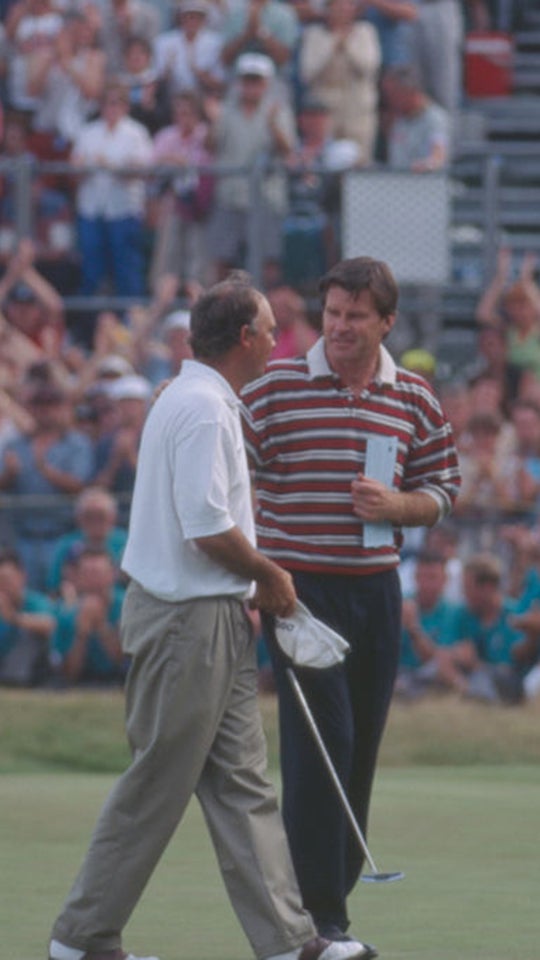 Speaking after holing the winning putt on the 18th, Lehman said: "It was not pretty but it was gritty. It was a struggle but I stuck it out. It really is the greatest day of my life."
In claiming the Claret Jug, Lehman became the first American professional to win it at Lytham and the first player from across the Atlantic to triumph at the venue since Bobby Jones 70 years earlier.
World number one
Lehman went on to taste more success in 1996 as the Champion Golfer, adding The Tour Championship title to his collection with a dominant six-stroke victory.
He was the PGA Tour leading money winner for the year as a result and was subsequently recognised with the PGA Tour Player of the Year award for his scintillating season.
While it was only brief, he would also rise to No.1 in the world in April 1997 for a week and he finished his career on the PGA Tour with five victories to his name.
Lehman went on to captain the American side in the Ryder Cup in 2006, which ended in an 18.5 to 9.5 defeat to Europe at the K Club in Ireland.
He also became the 13th Champions Tour player to win his debut tournament in 2009, teaming up with Bernhard Langer to win the Liberty Mutual Legends of Golf in a play-off.
A first Champions Tour Major Championship victory followed in 2010 when he prevailed at the Senior PGA Championship, while he topped the Champions Tour money list a year later.
But nothing Lehman ever achieved post-Lytham quite matched being crowned Champion Golfer.
As the man himself put it: "Winning The Open was the single most important victory in my golfing career."