Through support from his family, and parents who toiled to help their son achieve his dreams, McIlroy has established himself as one of the best golfers in modern history.
Born in Northern Ireland in 1989, it only took McIlroy two years of life to fall in love with the game of golf. Rory's father Gerry was an accomplished player, and McIlroy Jr. caught the golf bug quickly.
"I just looked like a kid that loved golf," McIlroy said of his early years. "I just really had a passion for the game. Swinging the golf club in the front room every day or chipping balls into the washing machine, I just loved the game.
"I was always fixated with it for a very long time from a very young age and it all started as my dad's whole side of the family were golfers and we grew up very close to the golf course. My dad was a good amateur player, a scratch golfer, so it just all stemmed from there."
McIlroy never felt forced to play golf, developing a natural love for the game and a desire to play as often as possible, one so often nurtured through adolescence.
"I was never pushed into it in any way," McIlroy said. "If anything it was the other way around. I had to drag my dad out to the golf course so I was never pushed into playing golf. It was always my ambition, my dream, I had to drag my dad out to the golf course to play so it was pure, pure joy and pure passion for me."
Playing whenever he could, the Northern Irishman rapidly made the ascent to young superstar, following in the footsteps of his idol Tiger Woods at the age of nine when he appeared on a television talk show in his home country. On the show McIlroy chipped balls into a washing machine, much like his practiced at his own home.
Whilst appearing on television raised the profile of a young McIlroy, the dedication and love he showed in playing the game, alongside one of the greatest talents for golf in recent memory, was all part of a larger plan, and dream.
"I think dreams and goals and setting targets for yourself," McIlroy said, "I think that's the most important thing not just for kids but for anyone in life, for anyone that wants to achieve something. You can't achieve anything by not setting goals or not setting targets or dreaming big.
"I'm a big preacher of dreams, and I was this little kid from Holywood, County Down, a town of 12,000 people. My parents were two very working-class people and you know I've got to this point in my life just because I believed in myself and I had people around me that believed in me."
As McIlroy chased his dreams, competing in more events and winning worldwide junior tournaments, the burden on McIlroy's mother and father to provide for their son became heavier.
"I wasn't aware at all of the sacrifices my parents made," McIlroy said. "As a kid you have nothing to compare it to. I saw other kids that were friends of mine and their families and you know, their parents didn't work like my parents did, or as long hours as my parents did, and they got to go on summer holidays, because our summer holidays were me going and playing in golf tournaments.
"You don't realise it at the time, but when you get a little older you start to realise, 'OK this isn't normal what they did for me'. It really took me until probably when I turned pro at 18 when I started to make my own money that I realised the sacrifices they made and how hard they worked and what they allowed me to be able to do."
McIlroy played in the winning European Junior Ryder Cup team in 2004 and became the youngest winner in the history of the West of Ireland Championship in 2005, before successfully defending that title the following year.
It was at the North of Ireland Championship in 2005, however, played at Royal Portrush, the venue for The 148th Open Championship, where McIlroy truly announced himself as a player of immense potential. The then 16-year old shot an astonishing 61 around the Dunluce Links, a score unthinkable to nearly all who had played the course.
McIlroy's coach, Michael Bannon, said: "A member of the golf club phoned me and told me and I thought it was a joke. Nobody can shoot 61 around Royal Portrush, it's such a difficult course."
Performances like this convinced McIlroy's father Gerry, along with a couple of friends, to reaffirm their belief in Rory. A substantial bet on McIlroy Jr. to win The Open Championship within 10 years was their method of choice.
"My dad's always been the biggest believer in me, the biggest believer in my ability, and you know he always saw the potential from a very early age," explained Rory.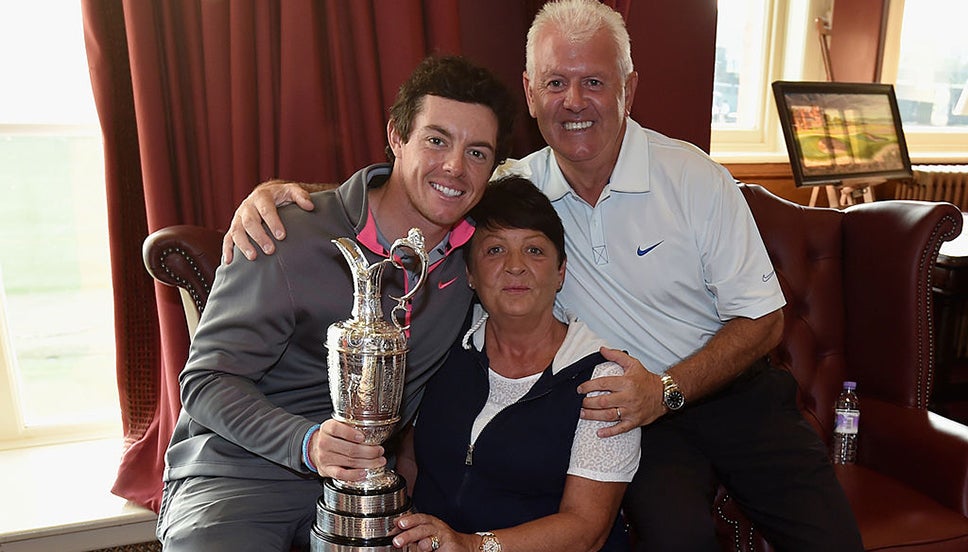 "He obviously had believed in me, his friends believed in me and they put a little bet on and they obviously got very good odds back then for me to win The Open within the next 10 years.
"I think it was 500-1, and they put £100 each on it or something like that. I think they won 50 grand each, I think they won 200 grand overall, so it was a good return on not such a big bet!
"Whenever he placed that bet on me, you know it was The Open. It was because The Open is the biggest tournament in the world, so he didn't say The Masters or the U.S. Open. He just said The Open because, well, it's The Open."
As McIlroy continued to take Irish golf by storm, the Ulsterman's first appearance in the sport's original major came just two years later in 2007. As an 18-year-old amateur, McIlroy wowed crowds and impressed en route to winning the Silver Medal at The 136th Open.
"I didn't feel any pressure at all at Carnoustie," McIlroy said. "I was just there really enjoying myself. In practice, I played a few holes with Nick Faldo, I played a few holes with Darren Clarke. I just loved being there.
"I was coming off a good week at the European Team Championships in Ireland and we won that and I was confident I was playing well. And The R&A were nice enough to hand me a very good draw in the first two days with Henrik Stenson and Miguel Angel Jimenez so I was excited about that.
"And I just wanted to go out and just enjoy the whole thing. I mean at that point in my life I didn't know how many more Opens I'd play. I didn't know if that was going to be my first or last Major Championship so I didn't feel any pressure at all.
"I wasn't really expecting anything of myself and so I was just going out there to try and play the best that I could. But saying that, winning the Silver Medal at Carnoustie to start my Open career was a nice way to start."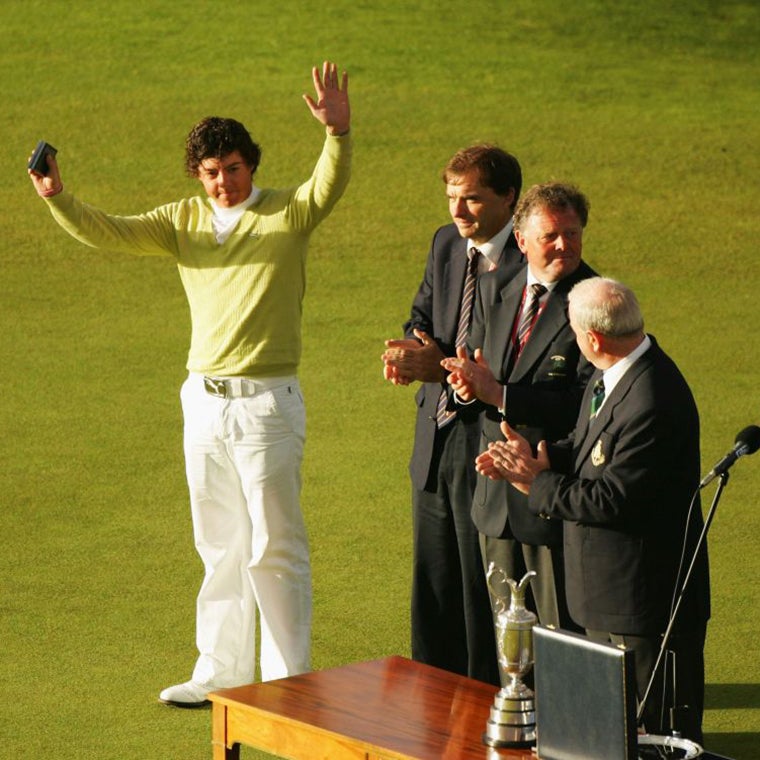 McIlroy continued to improve, and at The 139th Open at St Andrews in 2010 it seemed as if he was poised for a significant breakthrough, after a stunning 63 around The Old Course to tie what was then the lowest round in Major Championship history.
Yet McIlroy would follow up his excellence with a round of 80, which meant, despite a great weekend, the Northern Irishman could not win. He eventually finished eight strokes behind Louis Oosthuizen in a nonetheless impressive share of third place.
"I had three very good scores in 2010 and one very bad one, I still finished third in the tournament," McIlroy said. "Honestly there's a few courses in The Open rota that I haven't quite come to terms with yet or haven't got to grips with, but St Andrews isn't one of those."
After a breakout performance, McIlroy's career changed gears again, as he won two Majors over the next two years, racked up six wins in the 2012 season, and reached world number one at the age of 22.
However, 2013 provided the first substantial blip in McIlroy's career, and The Open Championship at Muirfield was a trough for both McIlroy's performance and confidence.
"After the Friday at Muirfield in 2013 was probably the lowest point in my professional career," McIlroy said. "It was the first cut I'd missed at The Open, and I was completely lost with my game, I was lost out there. I didn't know what to do. I had no answers. It wasn't a good point in my career.
"Muirfield would have been the closest thing to me falling out of love with the game of golf. Golf was always fun for me. It was always my favourite thing to go round the golf course and play, and at that point it just wasn't like that. It felt like a job, it felt like a grind and I wasn't enjoying it as much as I probably should have been.
"And every time you come back and play close to home, I think there's always a bit of added pressure. Pressure to perform because you've got friends and family watching and you want to play well not just for yourself but for them. And I was just at a point where my game and my swing just wouldn't allow me to do that."
With a determination to rekindle the love, passion and dedication he showed as a youngster playing with his family, McIlroy was fixated on returning to the top of the game once more and putting the lows of Muirfield behind him.
"I had to learn to enjoy the challenge of trying to get better. It was my passion, and my love of the game to go out there and try to get better each and every day and leading up to The Open at Hoylake in 2014, and that's really what I did.
"All I really did was play golf, hit golf balls, go to the gym, do everything that I could to become a better player and I didn't really know when the results would start to come. And everything just sort of came together at The Open and at Hoylake. That was when everything just sort of clicked."
After solid performances throughout the early parts of the 2014 season, McIlroy arrived at Royal Liverpool for The 143rd Open with a point to prove and form on his side.
An opening 66, enough to give the 25-year-old Ulsterman the outright lead on day one, was followed by a second round of the same score to open up a four-shot lead.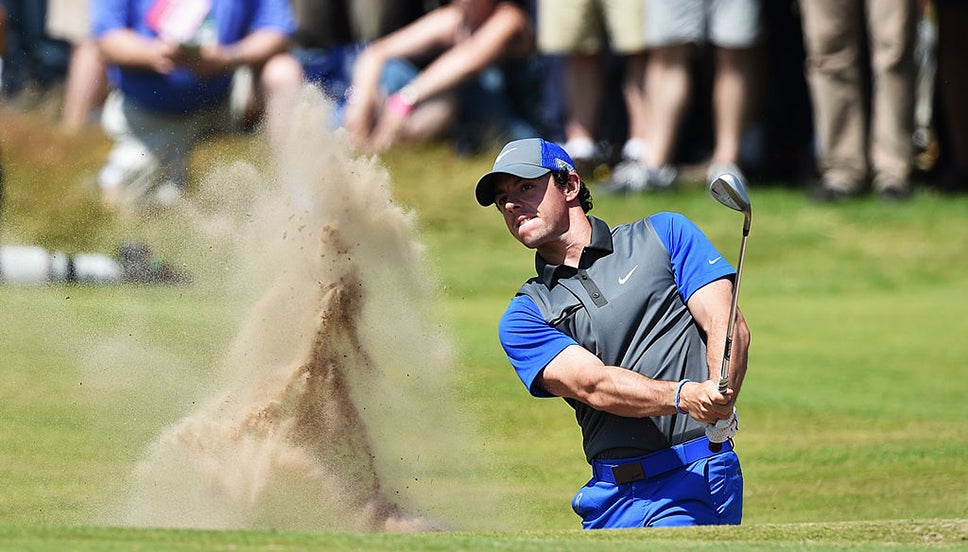 "I shot a great first round," McIlroy said, "and I didn't follow it up with a bad second round like I had been doing for a while. Everything just sort of came together and luckily enough it came together at just the right time."
On the Saturday, McIlroy was not in quite so imperious form, until remarkably catching fire to close his day, carding two eagles in his last three holes for a 68. McIlroy now held a six-shot lead over second-placed Rickie Fowler after three rounds, and was looking to become a rare wire-to-wire Champion of golf's original major.
The challengers cut McIlroy's lead to two during the back nine on Sunday, but they could never get closer than that. Rory walked up the 18th with a comfortable lead, knowing he was to finally fulfil his dreams.
"As soon as I got my third shot out of the bunker (on the 72nd hole)," McIlroy said, "and got it to within 12 or 15 feet, I knew I had three or four putts to win and that's the moment I realised that I'd won The Open Championship.
"I holed my final putt and then the first person I saw was JP (Fitzgerald), my caddie, and then as I was walking off the green I saw my mum come through the little tunnel underneath the grandstand. She didn't want to come onto the green and I waved her on because she's not very big on being in the spotlight or having the attention put on her.
"Luckily my dad had been to my previous two major wins, but my mum hadn't been so that was her first experience being at a major where I won and it was a great moment just to be able to share it with her and to bring her onto the green. She was in tears, going everywhere, and it was a really nice moment.
"I found it difficult not to cry when I saw her walking towards me with tears in her eyes but it was such a special moment, and it was so nice to share that with her and obviously that's a moment that's going to live in my memory for the rest of my life."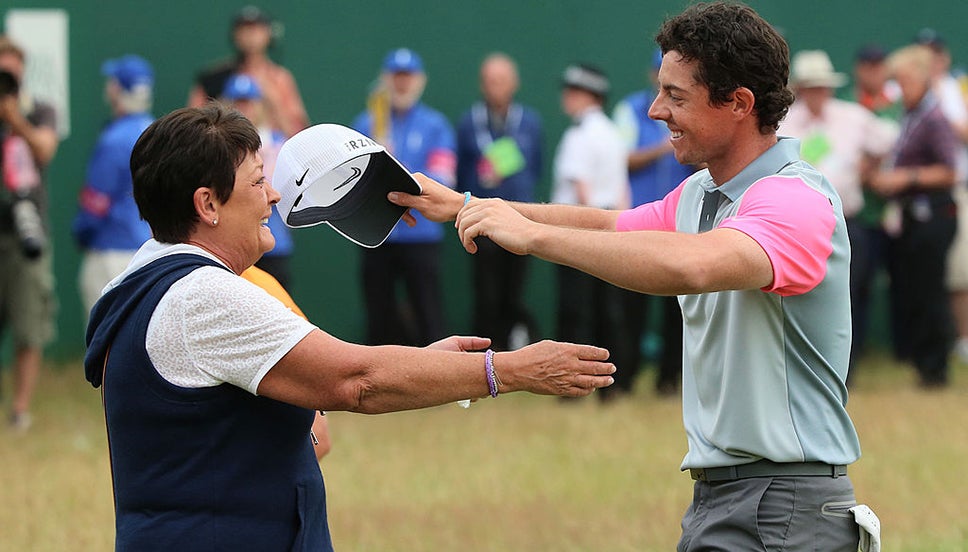 After working tirelessly throughout Rory's childhood, parents Gerry and Rosie had seen in person their son accomplish his dream of winning golf's original Major.
"My parents worked very hard and sacrificed a lot for me to be able to pursue my dream of being a professional golfer," McIlroy said. "So I think it was very fitting that both of them were there at Hoylake when I was to win my Open because again that was the most important tournament to me growing up as a kid.
"For them both to be there to witness me winning hopefully my first of a few Claret Jugs was really, really special and, yeah, it's sort of hard to describe, it's hard to put into words. Hopefully me doing that with them there is some sort of payback for everything that they were able to do for me over all those years, letting me follow my dreams and pursue this career that I'm having right now.
"So to be able to give back to them in some way, you know I'll never be able to give them what they gave me. They obviously don't have to work any more and they spend half of the year in Florida and they spend half of the year back home here.
"They have a very nice life and they're enjoying themselves but they deserve to because the amount of hours that they worked is really twice as much as you should do in a lifetime and they deserve everything they have now because of what they put in for all those years while I was a kid."
And as for Gerry's bet on Rory to win The Open? McIlroy played it right to the very last year he could.
"I cut it close, I cut it fine," McIlroy said. "I made them wait all those 10 years to reap the rewards but it meant a lot more for his friends. Obviously it meant a lot to him but more to his friends in terms of the money that they won from that bet.
"It was just another nice little story to go along with what happened at Hoylake that year. And I still to this day can't believe that the bookie paid out!"