The Open has been won exclusively by professional players ever since the great Bobby Jones secured his third title at golf's original Championship in 1930.
However, at the age of 22, Dunne threatened to pull off the ultimate upset in The 144th Open at St Andrews as he claimed a share of the lead through 54 holes.
Although he eventually slipped out of contention on the final day as Zach Johnson triumphed, Dunne could be hugely proud of his contribution to a fascinating week at the Home of Golf.
Discussing the Championship at length in his Tales of The Open documentary podcast, which you can listen to now via your favourite podcast platform, he explained how a combination of factors ensured he was full of confidence upon teeing off at St Andrews.
For starters, Dunne had won the Final Qualifying event at Woburn for the second year in succession, coping with increased expectations compared to his first appearance in 2014.
"I was going into qualifying knowing that I'd done it before on a course I'd liked and could do it again. So it was very different that year, I was going in with full intention and expectation to be in the top three, and 2014 when I went to qualifying I was completely winging it and just seeing what it was all about," he explained.
"So that gave me a lot of confidence, to go in with that expectation and play well."
Dunne also took motivation from two challenging experiences - sitting out a session as part of the Irish team at the European Amateur Team Championships and missing the cut on his only previous visit to St Andrews.
"There was a snowball effect," he added. "My game was in good shape, I'd played well under pressure leading up to it when I had expected to play well and there had been things that had ticked me off leading up to it.
"And I'd only ever played St Andrews once in an amateur event, and I'd missed the cut. And I didn't particularly like it at first, so I was going in feeling like I had something to prove."
"You're playing well enough to win"
Dunne was soon given more reason to believe he could achieve something special.
"I had my college coach (Alan Murray) come over, who knew me really well, to caddie. And he was in my ears in the practice rounds because I was playing really nicely," he added.
He said: 'You're playing well enough to win this tournament - I don't care what they call the tournament, I don't care if it's The Open or the Irish Amateur. Around this golf course, the way you're playing, you should be looking to do more than just make the cut.'
"I was going into that one very much with a mindset of trying to do well rather than just being happy to be there."
Although Dunne knew he was playing well enough to contend at St Andrews, he faced the challenge of overcoming the many distractions that had proved problematic during his first Open at Royal Liverpool.
"I always had in my head after 2014 that I'd experienced it once, I knew what it was about, so if I got into it again, I'd be able to put the distractions aside, focus on the golf a bit more and perform better," he continued.
"It was one of those weeks where everything was kind of a little overwhelming. It was definitely a dream come true to play, (but) it was weird, you get that impostor syndrome, when you're at the course and Tiger (Woods) is there and Adam Scott's playing and Rory (McIlroy) is leading the event. You're just so used to watching it on TV that it feels weird to be in that environment with them.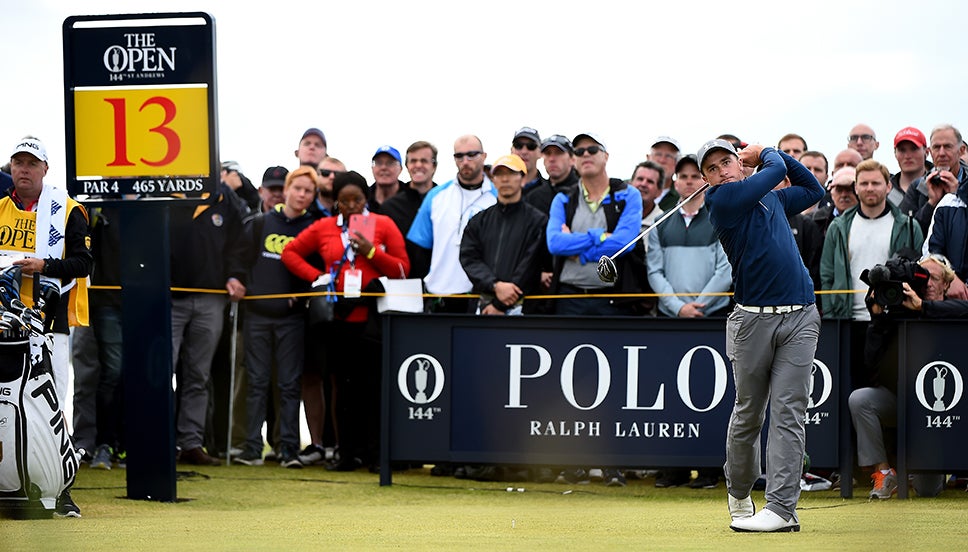 "And it's also strange to have so many people watching, because the biggest crowd I would have played in front of before might have been four or five hundred people, in the final round of an amateur event, and all of a sudden there's just tens of thousands of people roaming around, and the hustle and bustle and just the carnage of the whole thing, it was kind of hard to stay focused."
A solution at St Andrews came from a determination to focus on the scores that would be required to mount a realistic bid for the Claret Jug.
"It's a funny game - it's one of the only games in the world where the 1,000th-best player in the world can beat the world number one, multiple times. It's the ultimate carrot at the end of the stick because everybody thinks they can do it and everyone can," Dunne added.
"And I remember breaking it down in my head that week that if 16 under was going to win, you have to shoot 4-under four times. And I knew I could shoot 4-under on that course easy enough, the way I was playing.
"So that made it seem much more attainable, rather than saying: 'I'm going to win The Open'. Because you look at all the names around you and think: 'How am I going to beat all of them?'"
18 holes from golfing immortality
Incredibly, Dunne was firmly on course to hit his target score after 54 holes as he followed back-to-back scores of 69 with a superb 66 in the third round to reach 12 under. As a result, he began the final round sharing first place with two huge names: Louis Oosthuizen, the Champion Golfer of 2010 at St Andrews, and Jason Day.
Dunne's hopes of an astonishing triumph soon faded on the final day, however, after he bogeyed the first and second holes.
He was able to bounce back from those early setbacks with birdies at the third and fifth, but a disappointing back nine followed as his belief gradually ebbed away.
"I didn't get off to a good start ... and then it was in my head that I was a couple over through two and everyone else is four under through nine," said Dunne, who ultimately finished the week with a 78.
"I did pick a couple of birdies up and I got it back to level par through nine, but by the time I'd made the turn I didn't believe I had a chance to win. I thought it was gone.
"It was a very strange feeling. It was like the disappointment hit me and I still had nine or 10 holes to play. And you kind of just want the ground to swallow you up.
"As nine holes go, that back nine on Monday really wasn't enjoyable, but the week as a whole was great and a really big learning experience for me.
"But I still have a little thing in my head that I wish I could go and do it again."